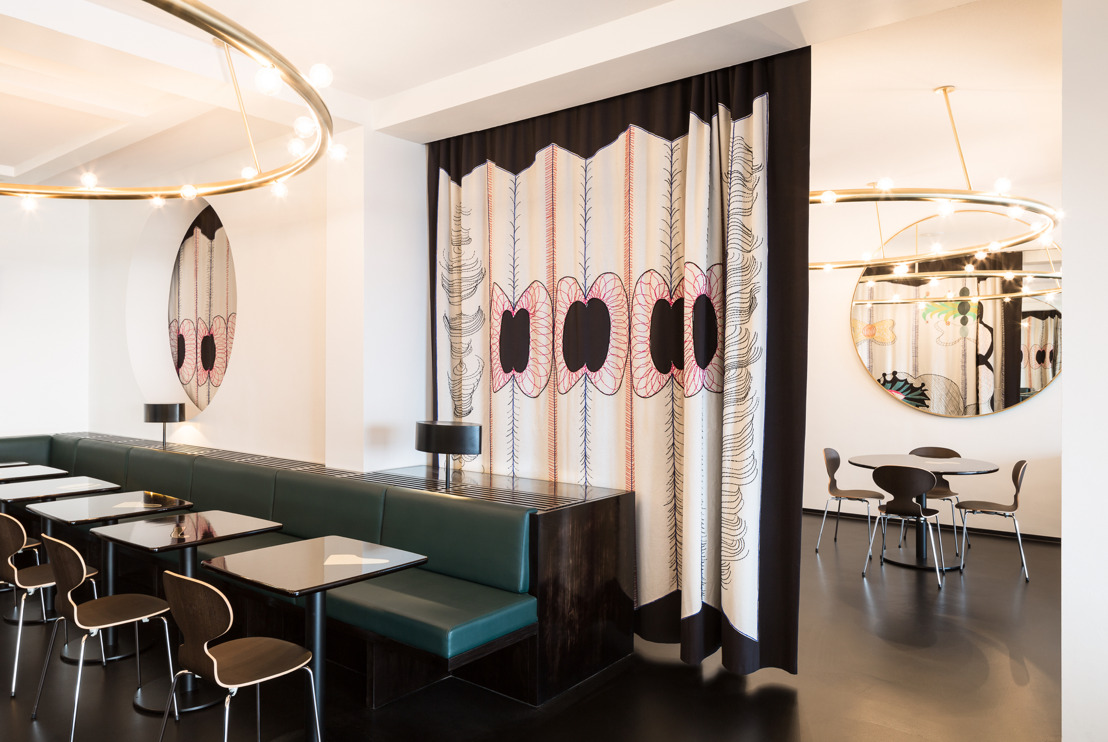 Fine Arts Centre Bozar opens 'Victor' Bozar Café
a universe of art, architecture and unassuming gastronomy in the heart of Brussels
Monday, September 19, 2016 — One year on from the renovation of the concert hall (Henri Le Boeuf Hall) in the Bozar arts centre, it is now the turn of the Bozar café. The renovated café/restaurant has been named 'Victor', an ode to the Belgian art-deco architect Victor Horta who designed the building in 1928. The refurbishment was handled by the internationally acclaimed architectural practice Robbrecht and Daem.
THE ARCHITECTURE – ROBBRECHT AND DAEM
The refurbishment was handled by Robbrecht and Daem, who also renovated the concert building in Bruges, and will create a new building for VRT (Belgian National Broadcasting Company) by 2020. Just like Victor Horta, Robbrecht and Daem believe there is a close link between architecture and interior design, something clearly evident in the 'Victor' Bozar Café.
The building is a protected monument and so major modifications were not permitted. But Robbrecht and Daem certainly didn't see that as a restriction. They often work in a historical context and always see it as an added value.
With 'Victor', Paul Robbrecht aimed to create a world in the modesty of a café: a sort of microcosm or universe. He wants to give people an experience there: artists performing, people in discussions, authors writing their books, …
To create this universe, the architects used circles: round chandeliers specially designed for Victor, and granite circles on the floor. These symbolise a sort of planetarium with sunsets and sunrises. At the same time, a café is also a place where people see each other and watch each other, which is why there are so many round mirrors providing reflection.
The choice of materials and interior elements are also an ode to the building's historical context. These are not copies of Horta's ideas, but rather a reminder of him. The dark-green granite and the dark-green leather sofas are, for example, a tribute to the green linoleums and the granite that Horta himself had already integrated. The tables are also real works of art: their tops feature musical instruments set in brass.
The Robbrecht and Daem architectural practice is currently one of the seven names on the shortlist for the construction of a new campus for the Royal College of Art in London. They are on the list alongside big names such as Diller Scofidio + Renfro, Herzog & de Meuron and Lacaton & Vassal.
ART BY VALERIE MANNAERTS
The real eye-catchers in the Victor café are three magnificent curtains fashioned by Valérie Mannaerts. Robbrecht and Daem often work with artists because they believe that there should be a dialogue between art and architecture, and that art must create a picture within the architectonic whole. So they invited Mannaerts to think about how to divide the café into different areas. The result is a work of art that forms a contrast with the café as a whole, a counter-world. The hand-embroidered pieces in cotton and wool are entitled 'Pleasure in Making (Curtain for Bozar)' and are used to divide up the space into smaller areas for events or special occasions. Mannaerts ensured that each area has its own identity when the curtains are closed. She created a different design on each side of the curtain, such as a folding-screen pattern. The intention with this work is to give visitors the feeling that something mysterious is going on behind the curtains that you can't see and are keen to find out about. Interpretative and a narrative, in the zone of the intimate.
WHAT WAS THERE BEFORE
The space previously housed the Bozar bookshop and the Klara radio station live broadcasting studio. Furthermore, the space used to be divided into small shops, but now there is now a passageway that opens up the space. The Victor café adjoins the royal salon, which has been restored to its original condition and is hired out for receptions or parties.
HEALTHY AND FUNKY BELGIAN FOOD
'Victor' is open every day from 10.00am to midnight except Mondays when, like Bozar, it is closed. You can enjoy a drink or a coffee at the large reading table, or a breakfast, healthy lunch or a modest meal. There's something for everyone, from Brussels' classics through to healthy sandwiches and gluten-free desserts. Perfect for a quick bite after a concert or performance.
For more information about the Bozar programme, click here.
Victor Bozar Café
Ravensteinstraat 23
1000 Brussels
02/213.19.19
Contact lies@vonyellow.be for more information or an interview.