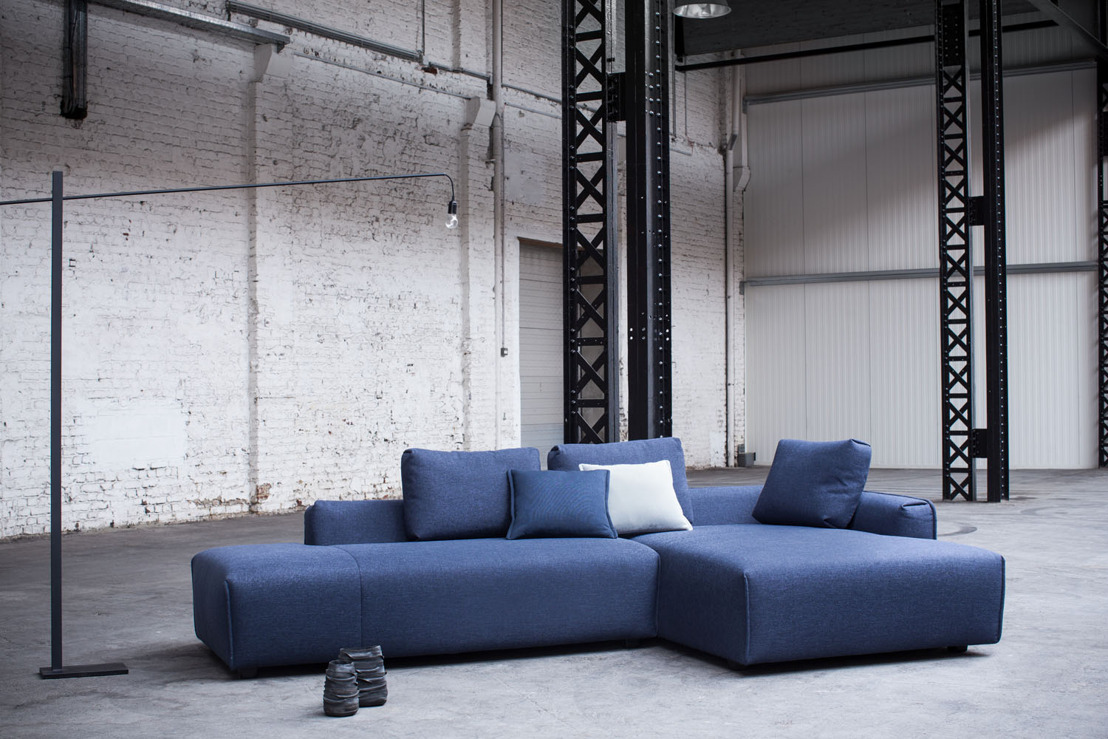 Furniture label Journuit to launch in September
"Challenging the status quo to create your dream sofa"
Thursday, September 22, 2016 — Journuit was born from a belief that your home should be a reflection of the life you want to lead, but finding your 'furniture soulmate' can be a challenge. Take sofas for example: it's not easy to find one that is comfortable, beautiful and affordable, while still unique to your tastes. Journuit founding mothers Stephanie Duval and Nele Pieters believed it was possible to create them, and so they did. Journuit is a brand new furniture label launching in September.
WHAT WE DO
We create furniture that marries characteristics all too often considered opposites or contrasts. We aim for the sweet spot between high quality and affordability; between beautiful design and ultimate comfort. We are not furniture makers, but we work with the best of the best in Belgium to refine our vision and produce our designs. Our experience as outsiders to the industry has taught us that challenging the status quo can deliver amazing results.
HOW WE DO IT
We keep our designs affordable by radically cutting unnecessary costs. We don't hire high profile designers, we don't own fancy flagship stores and we'll never run expensive advertising campaigns. We invest all of our time and energy in our research and development to become the specialist in high quality sofas that look great, feel even better and are entirely made in Belgium.
WHERE YOU CAN BUY JOURNUIT
We sell our sofas only online, in our own web shop www.journuit.be. There, you can read up on every little detail about our different models and materials, and you can create your own dream sofa by customizing our designs with your choice of fabrics, leathers, legs and extras.
Prices: starting from 1000 euros for a two-seater sofa.
WHERE YOU CAN TRY JOURNUIT
Of course we realise that sofas are still big-ticket items, and you'll likely want to see them up close before you buy one. That is why we're working with the coolest places all over Belgium to showcase our designs in their interior, where everyone is free to try them and look through our fabric sample book. For now, our three different models can be tested at lunch bar Cantine in Vilvoorde and will soon be incorporated in the interior of ubercool co-working concept Fosbury & Sons this Fall. Additionally, you can also order up to six free fabric samples from our webshop, so you can consider them in your own home.
OUR FIRST COLLECTION
We designed three different models for our first collection – all of which are available in all of our nearly 100 different fabrics, and in a multitude of different set-ups, from two- and three-seaters to corner seats and love seats (our favourite!).
Pillow Talk
'Pillow Talk' is one of our favourite romantic comedies from old-school Hollywood. The title refers to the intimate conversation between two lovers, which mostly takes place in bed. It inspired us to create a sofa that is the perfect setting for romantic moments, thanks to a very soft, feminine look and feel.
Our Pillow Talk consists out of many different pillows that can be upholstered in different fabrics on both sides. All of them are reversible, so you can choose whether to go for a uniform sofa or one that has two different looks, depending on how you place the pillows!
Utilitarian
We're big fans of industrial interiors, but we're not exactly ready to sacrifice our comfort for a look. So we accepted the challenge to design a sofa that looks tough and sturdy, but is extremely comfortable and cosy at the same time. The result is our Utilitarian, recognisable by its tubular frame on either side.
This sofa is a bit more upright, because it's not as deep as a lounge seat and it offers a bit more support in the back. Depending on your choice of fabric or leather, the couch can look very sleek and modern. If you prefer a more snug look, just add some of our throw pillows to create a cosy effect.
Cosy Island
Do you sometimes dream about spending an entire day in your sofa? With that fantasy in mind, we designed our Cosy Island. Nice and deep, with soft cushions and pillows, and arm rests that invite you to crawl against them. The feeling of staying on 'an island' is further reinforced if you choose a set-up with a built-in coffee table: perfect for keeping your drink and book close at all times.
Our Cosy Island is our most modular design, and can be created in our online atelier in thousands of different set-ups. There are a lot of options to browse through, but you'll be rewarded with a sofa that is entirely unique to your tastes!
WHO WE ARE
Nele Pieters grew up in her parents' design boutique. She studied Business Engineering and first worked in the marketing department of a big corporation and later as a business consultant. Drawn back to her roots, Nele decided to study Interior Design in evening school to reconnect with her first love.
Stephanie Duval started out as a freelance journalist, honing her appreciation of aesthetics and quality design by interviewing countless designers and business owners for a variety of magazines. She gradually evolved into a 360° storyteller and consultant for lifestyle brands. When Nele and Stephanie met, they decided to try and make a difference by doing rather than telling.
Contact lies@vonyellow.be for more information, imagery or an interview.