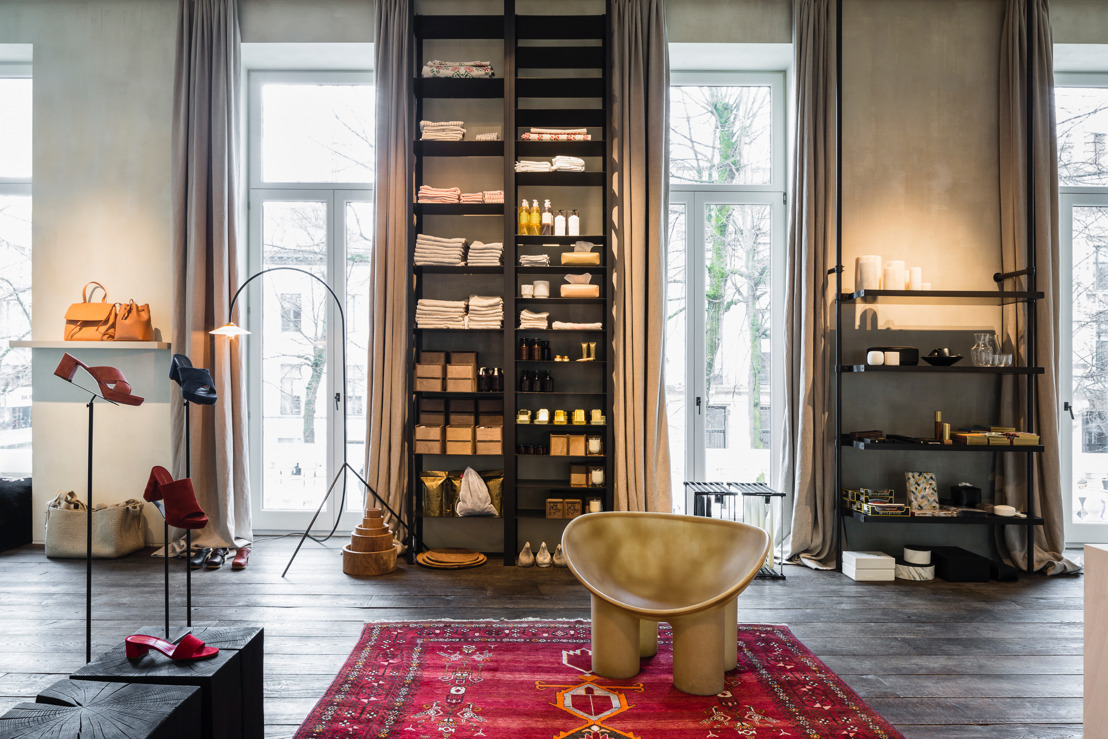 Graanmarkt 13 launches seasonless store
out of fashion into eternity
Thursday, March 23, 2017 — In 2017, Graanmarkt 13 founders Tim Van Geloven and Ilse Cornelissens will be heading down a new path, away from the fashion race and back towards a highly personal approach. More than ever, Graanmarkt 13 will become a destination for seasonless (and sometimes even sizeless and genderless) luxury. Fashion items and collectables, for both men and women, which will last a lifetime. Later in the year, this will be followed by the launch of the Graanmarkt 13 range of products, stories and services, each of which will serve to enhance the store's unique identity.
___________________________________________________________________________________________________________
Graanmarkt 13 founders Tim Van Geloven and Ilse Cornelissens felt it was time for a fresh approach. After 7 years of playing full out on the fashion circuit, not to mention the pressure of the many collections, the rapidly changing seasons and the recent fast fashion evolution, they will be choosing a new path in 2017. In fact, to put it more accurately, they will be returning to their own highly personal path.
Graanmarkt 13 is a hugely personal story, the story of a search for exceptional products and services from fascinating designers. Designers who, just like Tim and Ilse, focus on craftsmanship, quality and authenticity. On their trips to Amsterdam, Paris, London, Tokyo, LA and New York, a large number of hugely interesting and creative people cross their path. These meetings gave rise to the idea of their own Graanmarkt 13 range of products, stories and services, allowing them to break away from the conventional retailer/designer relationship which sometimes lacks emotion.
Emotion is so important – in both our professional and personal lives. In all the collaborative projects we enter into, we consciously search for a sense of value and emotion. We want to make people dream again, to take pleasure in things and to derive enjoyment from them. - Ilse Cornelissens, Graanmarkt 13
What really counts isn't what you wear, but the people who make your clothes. That's why Graanmarkt 13 supports designers who create their products in a sustainable and socially responsible way. Pieces for life which defy today's throwaway culture. The store will become a timeless haven for understated luxury.
Tim & Ilse will increasingly be compiling their range on the basis of their own intuition and lifestyle. Focusing on being 'highly personal' and on 'selection' rather than on quantity, yet with no loss of true 'fashion items' or special objects. Items with a soul which place the emphasis on specialist knowledge and with high quality standards. A kind of 'luxury back to basics', with products which far exceed the sell-by date of a single season. Timeless pieces which may also be sizeless and genderless.
Their concept also includes a new vision of 'sales'. During the traditional sales periods, Graanmarkt 13 will be selling attractive pieces from its customers' private collections. As a result, they will be carrying out their own unique kind of 'recycling'.
GRAANMARKT 13 PARTNERSHIPS
Just a peek ...
Graanmarkt 13 is currently working full steam ahead on a scenting project, with the famous Lyn Harris aka Perfumer H acting as its 'nose'.

A collaboration with Monocle Magazine. Together with Tyler Brûlé, the founder of Monocle magazine, Graanmarkt 13 has hosted 'An evening with Monocle', launching the Monocle collection and the new focus on menswear collections.

The international launch of the recently published English-language version of the Graanmarkt 13 cookery book will be presented together with Henrietta Thompson, the editor-at-large of Wallpaper* Magazine and author of the foreword to this book.

Our very own honey, produced by bees kept on the roofs of Graanmarkt 13 and of the opera. In collaboration with Amielo.

A trip to Portugal resulted in a partnership between the Graanmarkt 13 kitchen staff and the new Santa Clara Hotel in Lisbon: a new project initiated by the owners of Casas Na Areia, Casa No Tempo and Cabanas No Rio.

The development of a unique high-end knitwear collection in collaboration with Bombyx, an organisation that promotes fair fashion and that helps brands to produce their collections more ethically.
MEN'S COLLECTIONS
The new approach also caters for men, as men's collections will be on offer from February 2017. An appealing selection of brands such as Lemaire, 7D, Sofie D'hoore, Common Projects and the unisex Apple Trees will ensure that men can also shop to their hearts' content. Graanmarkt 13 will be entering into a collaboration with the renowned Monocle Magazine, as they created a Monocle corner on the first floor of the Graanmarkt 13 building.
TIMELESS, SIZELESS AND GENDERLESS
From 2017, Graanmarkt 13 will only be collaborating with like-minded and inspirational brands such as CristaSeya. This company designs clothing in editions instead of seasons, which always remain available. Extreme Cashmere also fits into the picture perfectly. Their collections are not just timeless but also sizeless and genderless.
There is also more room for carefully selected beauty products, accessories, interior objects and items for kids, with no sell-by date. The first floor of Graanmarkt 13 is being redesigned as a 'boudoir' space which will not only feature the men's collections, but also the perfumes of Astier de Villatte, the bed and bath linen brand Once Milano and – as a Belgian exclusive – the British skincare brand Haeckels.
A selection from the Graanmarkt 13 range:
Women / Banana Time - CristaSeya - Extreme Cashmere - Lemaire - Sofie D'Hoore - Simon Miller - Mansur Gavriel - ReDone - R13 - Raquel Allegra - WEHVE - Monique van Heist - AF Agger - Demain il fera jour - FEIT
Men / Salle Privée - 7D - Common Projects - Lemaire - Sofie D'Hoore - Demain il fera jour - FEIT
Beauty / Astier de Villatte - Santa Maria Novella - Susanne Kaufmann - Kenkawai - Maison Francis Kurdjian - Haeckels - Mason Pearson - Sylvain Lehen
Home & Gifts / Astier de Villatte - Lobmeyr - Michaël Verheyden - Sirocco Living - valerie_objects - Faye Toogood - Khadi & Co - Sirocco Living - Kenkawai - Once Milano
Art / Ysbrant van Wijngaarden - Philip aguirre y otegui - Jasper Krabbé - Herma de Wit
Jewelry / Pamela Love - Shihara - Sophie Bille Brahe - Espèces-Espèces - Pearls Before Swine - Stephanie Schneider - Anna + Nina - Samuel Gassmann - Carine Vyfeyken
Kids / Jellycat - Donsje - Nathalie l'Été - Miller Goodman - Anne Claire Petit
Shoes & Bags / Mansur Gavriel - Common Projects - FEIT - Ancient Greek Sandals - Maria Jobse
___________________________________________________________________________________________________________
ABOUT GRAANMARKT 13
Graanmarkt 13 is an unusual house in Antwerp in which every floor tells a story. Under just one roof, you will find a store, a restaurant and guest accommodation. It is a crossover venue packed with surprises, with a relaxed and friendly atmosphere. The minute you walk through the door, you will feel more like a guest than a customer.
Graanmarkt 13 is a wonderland dreamed up by its inventors, Tim Van Geloven and Ilse Cornelissens. They are the masterminds and gut feeling behind everything that happens at Graanmarkt 13. Tim and Ilse believe in doing everything just a little differently. Their welcoming oasis of inspiration is an extension of their own lifestyle: a microcosm that reflects how they experience the world. It mirrors everything they believe in, from a unique partiality to lovely things to an affinity with craftsmanship and sustainability. Tim and Ilse wish to bring their guests into contact with everything in which they take a special delight.
Graanmarkt 13 does not sell trends, but fashion and collector's items that will last a lifetime. This store, which extends over two – and sometimes three – floors, brings together leading fashion, design and beauty brands as well as their avant-garde counterparts. Their offering varies regularly, and includes labels such as Lemaire, Sofie D'Hoore, Santa Maria Novella, Lobmeyr and Susanne Kaufmann. Tim and Ilse search for and select everything personally. Everything you will see at Graanmarkt 13 has, at one time or another, passed through their hands. They know the history behind every object, and will be more than happy to share this with you.
Contact sayrade@vonyellow for more information, visual materials and/or an interview.