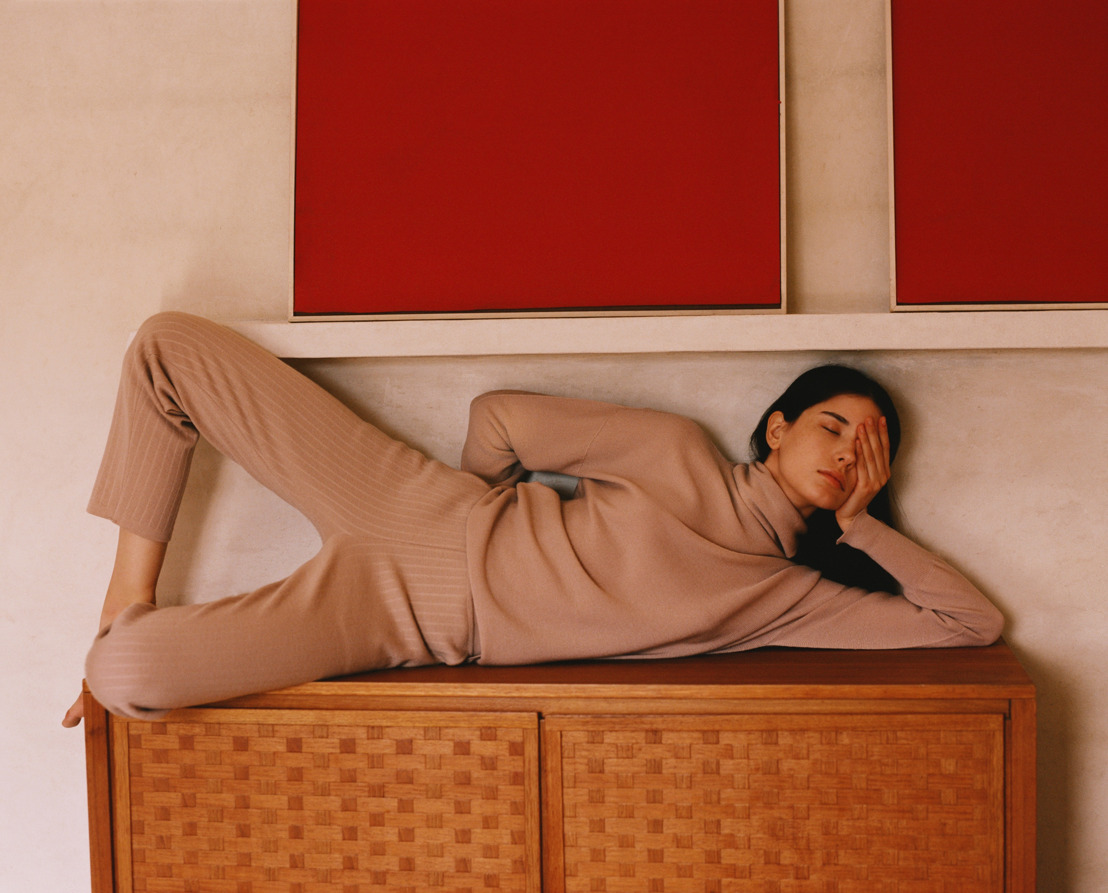 Graanmarkt 13 I Fall/Winter Fashion
New in store for colder days
Thursday, June 28, 2018 — Soon new in at Graanmarkt 13: a selection of Fall/Winter items by brands like Aeyde, Susan Bijl, Bananatime, Indress, CristaSeya, Wehve, Sofie D'Hoore, and Molli. Find a selection of images and packshots below and a more in our press room. If you are interested in lending out items from the store: let us know!
More images and prices can be found in our press room.
AEYDE - New at Graanmarkt 13
Founded in 2015 by Luisa Krogmann and Constantin Langholz-Baikousis, aeyde's mission is to offer subtle, yet distinctive designs that integrate effortlessly into a modern wardrobe. At the core of their mission are an unwavering standard of design, meticulous Italian craftsmanship, luxury-grade materials, and a transparent approach to the value and pricing of their product. Aeyde's small, dedicated team is based in the heart of Berlin, and all products are manufactured by family owned factories in Italy's Marche region. They value sustainable satisfaction over quick turnover, which is why they design both timeless, refined evergreens and on-trend styles. Each aeyde collection carries a signature number and builds on trusted silhouettes to ensure that every pair of aeydes is designed for the ages. The dash in aeyde's logo is a reference to the hand-sewn signature stitch found on every aeyde shoe, and is a symbol of their commitment to superior quality in all aspects of their business.
MOLLI - New at Graanmarkt 13
Molli is a Parisian brand that's been manufacturing luxury knitwear since 1886. Molli stands for timeless design, and refined and sophisticated details. For the warmer moths, the brand chose to work with Egyptian cotton yarn, which is the most beautiful and highest quality cotton in the world.
SUSAN BIJL - Etnomanie
In September 2018 SUSAN BIJL will launch the ETNOMANIE collection by styleprofiler Ellie Uyttenbroek.
ETNOMANIE is a celebration of humanity and its colorful diversity. The collection will see the renowned SUSANL BIJL products in combinations of 5 skin tone colors. Ellie Uyttenbroek is known and praised for Exactitudes, a groundbreaking work in which she researches and portrays cultural identities. Last year she created the traveling exposition ETNOMANIE, entirely made of manipulated ethnohistorical images.
CRISTASEYA
Being bored with fashion and trends that change every season, CristaSeya states that they are against the current fashion structure. The Parisian designer brand works with editions instead of different collections for different seasons. All the editions, old an new, are simultaneously available at any given time upon request.
CristaSeya strives for only using the best materials that the world has to offer: the finest Italian cashmere, Australian wool, brushed linen from Kyoto,... Only to name a few. Their clothing truly outlives the cycle of a season, they aim for the customer to keep the quality and the rareness of the clothing for a lifetime. CristaSeya's editions are sophisticated, yet edgy. Oversized, but with perfect craftmanship and luxurious textiles to dream of.
BANANATIME
BANANATIME is a luxury clothing brand, based in Amsterdam. A label for the adventurous, curious and bold. BANANATIME is all about breaking up the monotony. The products are versatile, dynamic and unisex. Renowned for its easy to wear appeal and emphasis on quality. A must have addition for all globe getters.
INDRESS
Silk blouses, pleated skirts, muted purple zig-zag dresses and bright yellow coated cotton parkas. Indress is back at Graanmarkt 13. Indress is an easy to wear brand with a touch of masculinity. Each collection consists out of 25 pieces, and each design has a unique fabric colour- and quality-wise.
WEHVE
Belgian brand WEHVE is known for its hand-woven and hand-knitted accessories. The brand combines the expertise and quality of traditional craftsmanship with contemporary styling. On top of that, WEHVE is also a leader in sustainable and ethical fashion.
SOFIE D'HOORE
Belgian designer Sofie D'Hoore originally trained to be a dentist, before successfully moving into fashion. D'Hoore describes her work as a constant search for refinement in terms of cut, colour, and execution. Her clothes are sophisticated, yet made to suit the modern life, and thus made to be moved in.
Don't hesitate to contact us for lend-outs, more information or interviews.