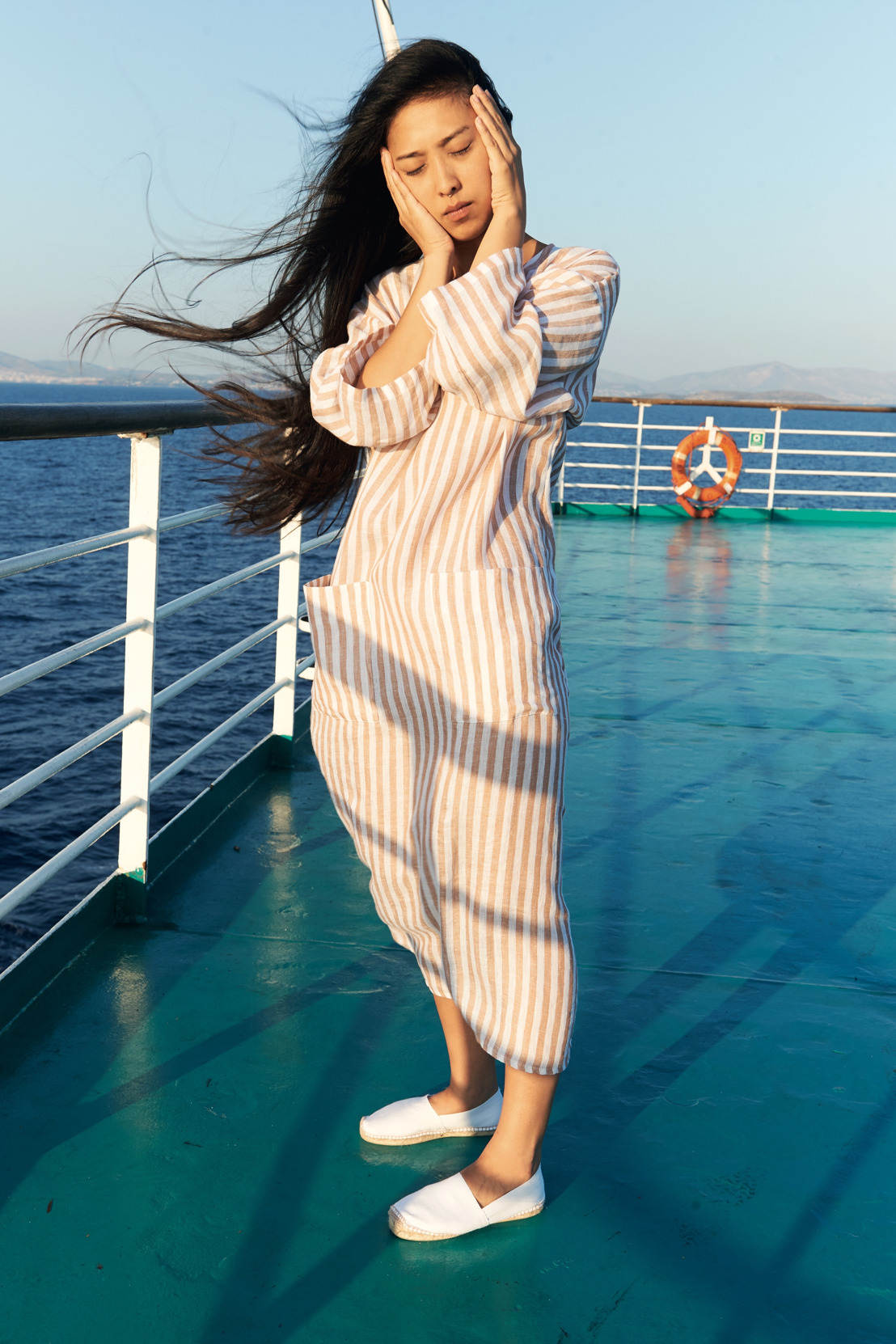 Graanmarkt 13 I Here comes the sun...
New in store for warmer days
Thursday, March 15, 2018 — New in at Graanmarkt 13: a wide selection of fresh summery items by brands like Indress, Baserange, CristaSeya, Bernadette, Wehve, Sofie D'Hoore, Extreme Cashmere, Maison Labiche, Molli, Monsieur Maison and Sunnylife. Find a selection of images below and a complete image database on our press room. If you are interested in lending out items from the store: let us know!
Many more images and prices can be found in our press room.
INDRESS - New at Graanmarkt 13 !
Silk blouses, pleated skirts, muted purple zig-zag dresses and bright yellow coated cotton parkas. Indress is back at Graanmarkt 13. Indress is an easy to wear brand with a touch of masculinity. Each collection consists out of 25 pieces, and each design has a unique fabric colour- and quality-wise.
MAISON LABICHE - New at Graanmarkt 13 !
French brand Maison Labiche is new at Graanmarkt 13. Maison Labiche is run by a team of three complementary personalities who create timeless classics with a twist. The coming season you can opt for embroidered tees with messages like 'mademoiselle' and 'déjà vu'.
MOLLI - New at Graanmarkt 13 !
Molli is a Parisian brand that's been manufacturing luxury knitwear since 1886. Molli stands for timeless design, and refined and sophisticated details. For the warmer moths, the brand chose to work with Egyptian cotton yarn, which is the most beautiful and highest quality cotton in the world.
MONSIEUR MAISON - New at Graanmarkt 13 !
New in at Graanmarkt 13 is Belgian brand Monsieur Maison. Designer Emmanuel Demuynck is known for raising the concept of a scarf to the status of an exceptional item imbued with character. The collection has expanded with dresses that complement the existing style.
BERNADETTE - New at Graanmarkt 13 !
BERNADETTE is a Belgian womenswear brand by mother-and-daughter designer duo Bernadette and Charlotte De Geyter. The BERNADETTE aesthetic is playful with vivid colours and the designers prefer to work with classic designs rather than passing trends.
SUNNYLIFE - New at Graanmarkt 13 !
Did someone say pool party? Inspired by the beaches of Sydney, Sunnylife aims to share Australia's authentic summer style with the rest of the world. The brand is recognised for its vast seasonal collections that feature must-have Summer items.
BASERANGE
If you're going on a holiday and are in need swimwear, then Baserange's got you covered. Baserange produces modern basics that are made to emphasize natural beauty and are forever wearable. The brand focusses on high quality and organic fabrics that minimize environmental impact.
CRISTASEYA
For their tenth edition, CristaSeya collaborated with Salvatore Piccolo for some handmade shirting from Naples. The collection consists out of striped and plain pieces in neutral colours that will get you through the hot Summer days without much of a fuss.
WEHVE
Belgian brand WEHVE is known for its hand-woven and hand-knitted accessories. The brand combines the expertise and quality of traditional craftsmanship with contemporary styling. On top of that, WEHVE is also a leader in sustainable and ethical fashion.
SOFIE D'HOORE
Belgian designer Sofie D'Hoore originally trained to be a dentist, before successfully moving into fashion. D'Hoore describes her work as a constant search for refinement in terms of cut, colour, and execution. Her clothes are sophisticated, yet made to suit the modern life, and thus made to be moved in.
EXTREME CASHMERE
Amsterdam-based brand Extreme Cashmere stands for reinvented knitwear staples and accessories. The coming season, the one size only-brand opts for extreme colours and loads of satin.
MANSUR GAVRIEL
Mansur Gavriel's high quality products are made in Italy, designed in New York and created with great attention to material, colour and detail. The brand is known for its purified leather goods and ready-to-wear items.
Don't hesitate to contact us for lend-outs, more information or interviews.