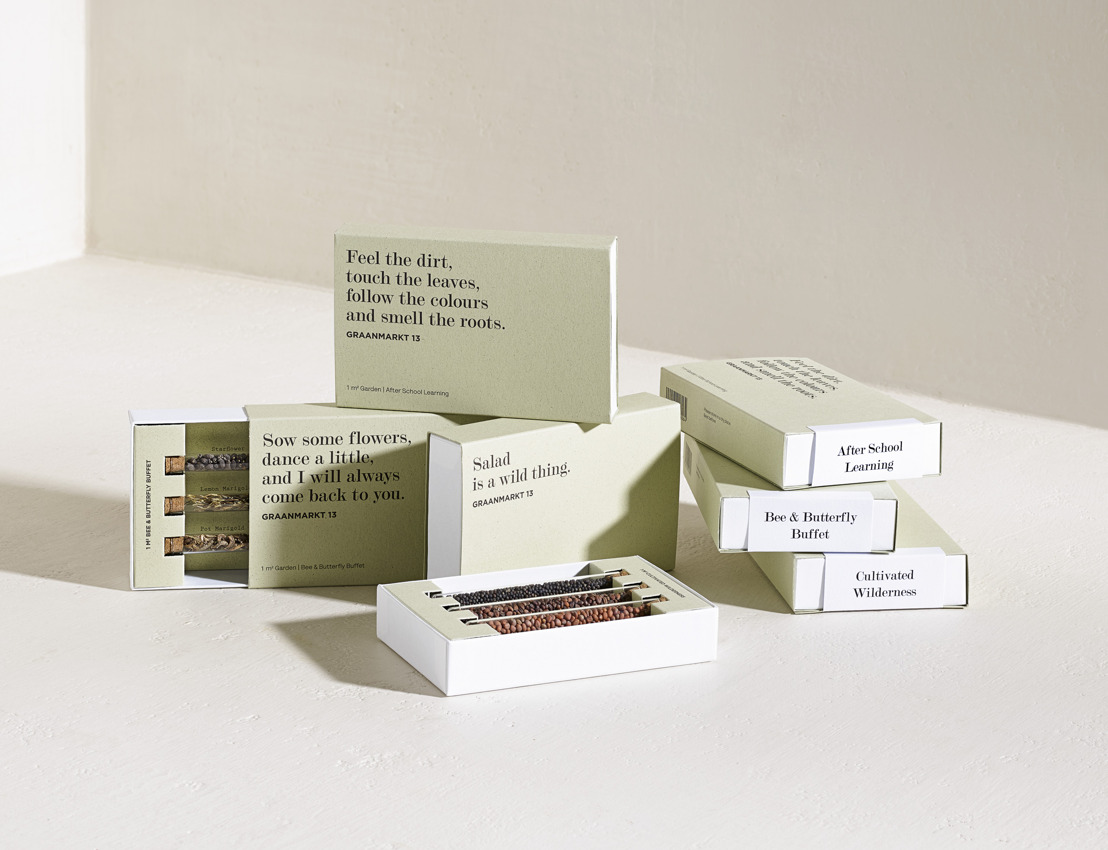 Graanmarkt 13 launches m2 gardens
Wednesday, March 21, 2018 — Graanmarkt 13 is a special house in Antwerp, where each floor tells a different story, from the restaurant and store to the apartment and rooftop garden. Inspired by the latter, Graanmarkt 13 launches a new family of plant-based products. All products are created in the Graanmarkt 13 lab together with master chef Seppe Nobels, British nose 'Perfumer H', the renowned candle makers at Cire Trudon and Sanguisorba's herbalist Bart Belmans. New in store as from today: a series of premium seed mixtures to grow your own 1m2 lushness of herbs, flowers and vegetables. Happy Spring!
In close collaboration with chef-cook Seppe Nobels and Sanguisorba's herbalist Bart Belmans, Graanmarkt 13 has developed a series of premium seed mixtures to grow your own 1m2 lushness of herbs, flowers and vegetables. All varieties grow on our rooftop garden too, and are Seppe's long-time favourites. Their taste, structure and beauty make for culinary experiments and will spice your daily dishes. All seeds are local varieties, because we should be proud of the flavours nature creates around us.

They offer 3 different packages to grow your own 'Garden 13': one for the kids to explore and learn, one to spice up your salads, and another one serves as a delicious bee and butterfly buffet.
"After School Learning": Kids are triggered to eat healthy when they grow it themselves. The experience of sowing, looking after, and harvesting will make them veggie-crazy. That's why our chef Seppe Nobels and Sanguisorba's herbalist Bart Belmans created this sensory seed mix. Easy and fun to grow, customized for little hands. It contains three colourful carrot varieties (all but orange), a baby lettuce and a family of crunchy radishes in wonderful shapes.

"Bee & Butterfly Buffet": Transform your place into a blooming wonderland with this edible flower mix. The bluish star flower marries well with cucumber, while the yellow and orange Wild Marigold flowers and young leaves have a fresh citrus touch. Its bright yellow sister, Pot Marigold, combines well with sun flower oil. By growing all these flowers, you also take care of the bee population. A world without bees is a world without us. So don't forget to greet the little workers before you leave to work in the morning.

"Cultivated Wilderness": This is a crunchy, zingy and peppery seed mix for those keen to taste something new. Chef Seppe Nobels and Sanguisorba's herbalist Bart Bart Belmans created a blend of vegetables that will turn your salad into a rocket experience. An easy care mix of young leaves with strong, rough flavours. Adding natural power to your dishes. Be ready for a taste explosion.
The Garden Kits are available in store and online as from 21 March at 30 euro per kit.
THE ROOFTOP GARDEN
Graanmarkt 13 is never not looking for sustainable ways of production. Chef Seppe Nobels is committed to cooking with produce as close to its source as possible. From this mindset, the rooftop garden was born, in collaboration with Sanguisorba's herbalist Bart Belmans. Year round, it provides Graanmarkt 13's restaurant with vegetables, honey, more than a hundred herb varieties, and a fresh garden breeze. Organic gardening practices are at its core, introducing as few outside inputs as possible. This lush urban oasis also inspires them to experiment with colours and tastes, from the more common to the unusual, resulting in pure products from the best quality.
________________________________________________________________________________________________________
ABOUT GRAANMARKT 13
Graanmarkt 13 is an unusual house in Antwerp in which every floor tells a story. Under just one roof, you will find a store, a restaurant and guest accommodation. It is a crossover venue packed with surprises, with a relaxed and friendly atmosphere. The minute you walk through the door, you will feel more like a guest than a customer.
Graanmarkt 13 is a wonderland dreamed up by its inventors, Tim Van Geloven and Ilse Cornelissens. They are the masterminds and gut feeling behind everything that happens at Graanmarkt 13. Tim and Ilse believe in doing everything just a little differently. Their welcoming oasis of inspiration is an extension of their own lifestyle: a microcosm that reflects how they experience the world. It mirrors everything they believe in, from a unique partiality to lovely things to an affinity with craftsmanship and sustainability. Tim and Ilse wish to bring their guests into contact with everything in which they take a special delight.
Graanmarkt 13 does not sell trends, but fashion and collector's items that will last a lifetime. This store, which extends over two – and sometimes three – floors, brings together leading fashion, design and beauty brands as well as their avant-garde counterparts. Their offering varies regularly, and includes labels such as Lemaire, Sofie D'Hoore, Santa Maria Novella, Lobmeyr and Susanne Kaufmann. Tim and Ilse search for and select everything personally. Everything you will see at Graanmarkt 13 has, at one time or another, passed through their hands. They know the history behind every object, and will be more than happy to share this with you.
___________________________________________________________________________________________________________
Contact lies@vonyellow.be for more information, visual materials and/or an interview with Graanmarkt 13 founders Tim & Ilse.