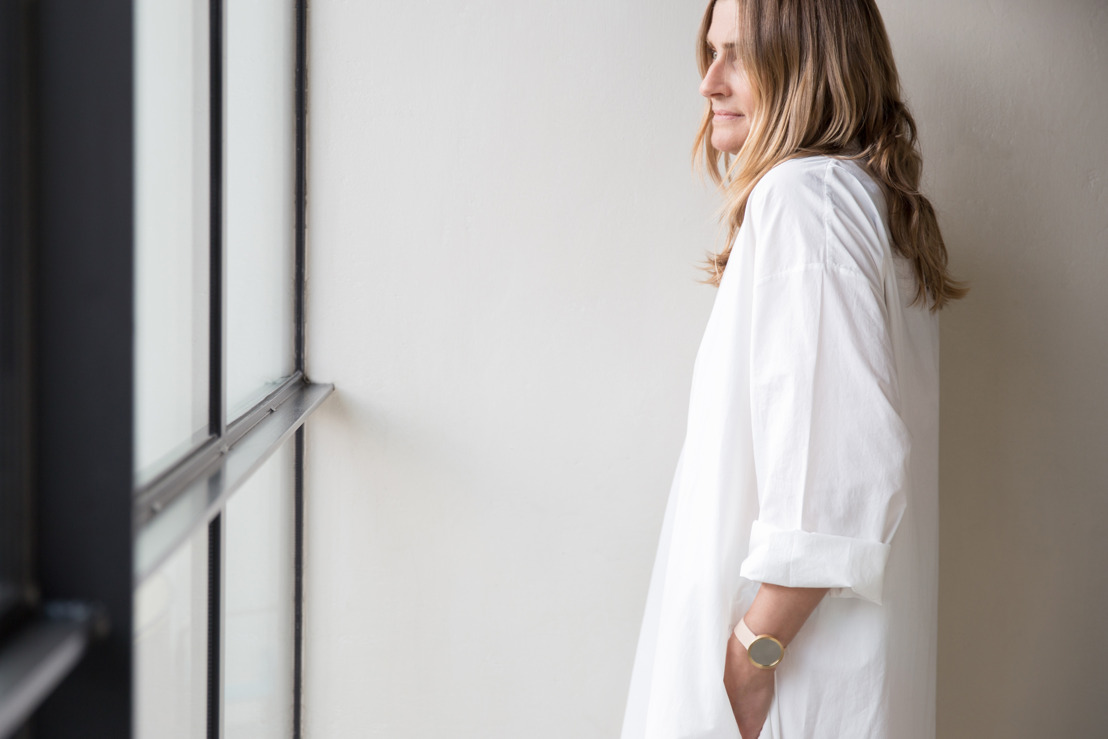 Graanmarkt 13 on Minimalism
The latest arrivals in home decoration
Thursday, April 26, 2018 — New in at Graanmarkt 13: a wide selection of minimalist items by brands like Minimalux, Muller Van Severen for valerie_objects, Michaël Verheyden, Tennen and Ystudio. Find a selection of images below and a complete image database with all needed information in our online press room.
Minimalux
Minimalux is a British company that designs and produces accessories for you and your home. The brand makes use of premium materials and lustrous finishing in order to produce a simplistic collection of understated products for the modern minded, luxury consumer. The products are made by expert craftsmen and engineers, and are hand finished or polished to an exceptional level. The brand encourages the natural ageing process of its goods by not treating them after they're finished.
One of our personal favorite objects from the latest collection is the Timeless leather/brass watch. Except it's not a watch... The bracelet has an elegant mirror instead of a dial as a metaphor for today's time obsessed society.
Muller Van Severen for valerie_objects
valerie_objects is an Antwerp-based design label founded by Axel Van Den Bossche (CEO of Serax) and art director Veerle Wenes (owner of the Valerie Traan Gallery in Antwerp). The label allows designers, architects and artists to translate their signature style into tangible objects. Design duo Muller Van Severen was one of the first to sign with valerie_objects and remains a very important partner today. The couple Fien Muller and Hannes Van Severen are considered one of the most image-defining European design teams of today.
Michaël Verheyden
Belgian designer Michaël Verheyden creates uncommon objects for common rituals and walks through the entire production process in his home. He blends serene shapes and meandering materials into pure and refined creations. In his quest for simplicity, the craftsman prefers noble and durable materials that feel natural and age beautifully such as marble, leather, bronze and oak.
Tennen
Tennen is a lifestyle product company that pushes new ideas and technologies, whilst embracing those things that time cannot change - think of light, the changing seasons and the inherent sensual qualities of materials. As they believe simplicity leads to timelessness and ensures a heightened awareness of the senses, founders Sarah and Ethan pursue this characteristic in their design work.
Ystudio
Ystudio wishes to bring back the imagination in your life through its products, which is why the company designs items for daily use. All of its stationary is made by masters in local factories and characterized by decades of experience. The importance of simplistic design is deeply rooted here, as is the belief that each object embodies a deeper meaning. Overall, Ystudio hopes to convey the attitude of Taiwanese people by means of its stationary.
Find a selection of images below and a complete image database with prices in our online press room. If you are interested in lending out items from the store: let us know! Please mention the Graanmarkt 13 e-shop when using these images.