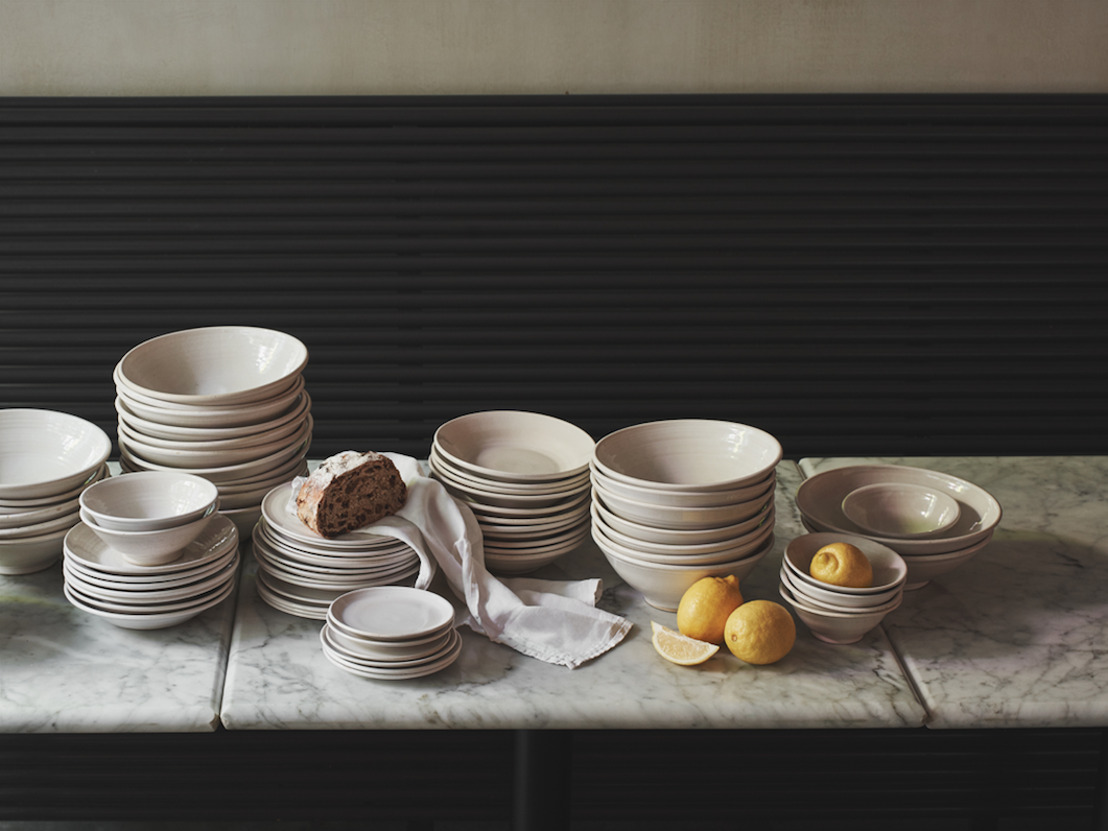 Graanmarkt 13 presents intimate new book I A white facade, 5 floors and an open door
A beautiful documentary by the founders of Cereal Magazine
Thursday, October 25, 2018 — Graanmarkt 13 founders Tim and Ilse are launching a special Graanmarkt 13 book, triggering all the senses. Beautiful photographs and engaging interviews with the Graanmarkt 13 family make you experience Antwerp's inspiring multi-house. Together with Cereal, the UK based independent travel and style magazine, the beauty of Graanmarkt 13 and its hometown Antwerp is represented by inspiring photographs by Cereal's Art Director Rich Stapleton. Edited by Cereal's other half Rosa Park. Available at Graanmarkt 13, and on its online store, as well as in selected boutiques worldwide, as from mid-November.
Graanmarkt 13 is a special house in Antwerp, where each floor tells a different story, from a restaurant and store to an apartment and rooftop garden. Founded by Ilse Cornelissens and Tim Van Geloven, it's a crossover place full of surprises.
INTRODUCTION
Antwerp has been Tim & Ilse's home for the last 12 years and their stories are inextricably intertwined. Antwerp, and the people who live here, have taught them what it means to have taste. The typically Belgian obsession with quality has worked its way into the Graanmarkt 13 DNA, as has the unique character of the city. This place is worldly and sophisticated, yet still stubbornly and idiosyncratically defined by its history. Amazing things happen on every corner in terms of art, fashion, architecture, and design, and some of the world's biggest names call it home.
This book is a tribute to the city that has taken us in and treated us as its own, and to the fact that Graanmarkt 13 has become home to a growing family of people who share in a desire for quality and the art of living well. It is through these voices that we tell our story.
TIM & ILSE IN CONVERSATION WITH
The book expresses this story, their love for Antwerp and the strength of teamwork.
Conversations with architect Vincent Van Duysen explain his inspirations and how an old Chinese restaurant with an old bank vault on the second floor got transformed in the timeless spaces that Graanmarkt 13 became. Vincent Van Duysen's iconic design lies at the heart of the creation of Graanmarkt 13.
Chef Seppe Nobels's fresh and healthy vegetable cuisine has made Graanmarkt 13 an international dining destination. He explains how he cooks with the seasons in the downstairs restaurant. Local produce accounts for around 95 % of what he cooks, transforming fresh and local vegetables, with garden herbs and honey from the Graanmarkt 13 rooftop garden into pure and simple dishes.
Bob Verhelst is the artistic director of Graanmarkt 13, and Christian Salez is a member of the board. From day one, Bob took the concept of Graanmarkt 13 to another level with his unusual scenography, not following the fashion system as we know it today. Bob And Christian talk to Tim and Ilse about creativity, respecting eachothers talents and ideas, and intuitively staying ahead of the curve.
ELEMENTS OF GRAANMARKT 13
Graanmarkt 13 is, and always will be, a project that relies on the talent and passion of the people who work here. There is, however, another way of telling our story. Every texture, every design element, and every object in Graanmarkt 13 has been carefully selected. The choices we make sometimes reveal more about us than the things we say. In the second part of the book, they have chosen six beautiful materials to speak for them:
Concrete
The soul of Graanmarkt 13, the connection between all six elements and what holds Graanmarkt 13 together.
Timeless grey but if you look closely, you'll see traces of the evolution of Graanmarkt 13.

Ginkgo Biloba
Graanmarkt's very own personal guard.
This rare Chinese survivor is a precious leftover of what used to be a Botanical garden. Some of the Gingko trees can get up to more than a thousand years, the reason why these respected trees are associated with spiritual values.

Washi Yarn
This traditional Japanese paper is used as fabric as well, due to its sustainabilty. Clothing made of Washi is timeless and highly qualitative with a message of being aware to give space to listen to ourselves.

Honey
Made from different kind of flowers, their own Antwerp based honey gives an unique taste going hand in hand with their pure and simple kitchen. A kitchen without distractions, listening to the body's needs to be happy and healthy.

Oakmoss
The smell of the forest, a strong wood smell but soft at the same time.
It reminds us of our roots, of using our insticts. The unique smell of Graanmarkt 13, designed by parfumer Lyn Harris, represents the desire of a fulfilled life, with a feeling for history, tradition, and at the same time values of craftmanship, skill and boundless care.

Linen
Graanmarkt 13, offers a timeless escape from the crazy world outside where everything goes so fast. Each detail, furniture or object was carefully selected to offer a place to rest while the linen curtains slowly dance in the wind.
________________________________________________________________________________________________________
BOOK CREDITS

Art Direction: Bob Verhelst
Editor: Rosa Park
Photography: Rich Stapleton
Words: Richard Aslan
Book Design: Studio Faculty
Artwork: Bob Verhelst
Created by CEREAL
Published by Lannoo Publishers nv, Tielt, 2018 D/2018/45/649 – NUR 450-640
ISBN 978 94 014 5695 1
Paper: Munken Lynx 150 gsm
Available at Graanmarkt 13, its e-shop and in selected stores as from mid-November.
Price: €49,99
________________________________________________________________________________________________________
ABOUT CEREAL MAGAZINE
Cereal is a biannual, travel & style magazine based in the United Kingdom. Each issue focusses on a select number of destinations, alongside engaging interviews and stories on unique design, art, and fashion. Founded by Rich Stapleton and Rosa Park.
________________________________________________________________________________________________________
ABOUT GRAANMARKT 13
Graanmarkt 13 is an unusual house in Antwerp in which every floor tells a story. Under just one roof, you will find a store, a restaurant and guest accommodation. It is a crossover venue packed with surprises, with a relaxed and friendly atmosphere. The minute you walk through the door, you will feel more like a guest than a customer.
Graanmarkt 13 is a wonderland dreamed up by its inventors, Tim Van Geloven and Ilse Cornelissens. They are the masterminds and gut feeling behind everything that happens at Graanmarkt 13. Tim and Ilse believe in doing everything just a little differently. Their welcoming oasis of inspiration is an extension of their own lifestyle: a microcosm that reflects how they experience the world. It mirrors everything they believe in, from a unique partiality to lovely things to an affinity with craftsmanship and sustainability. Tim and Ilse wish to bring their guests into contact with everything in which they take a special delight.
Graanmarkt 13 does not sell trends, but fashion and collector's items that will last a lifetime. This store, which extends over two – and sometimes three – floors, brings together leading fashion, design and beauty brands as well as their avant-garde counterparts. Their offering varies regularly, and includes labels such as Lemaire, Sofie D'Hoore, Santa Maria Novella, Lobmeyr and Susanne Kaufmann. Tim and Ilse search for and select everything personally. Everything you will see at Graanmarkt 13 has, at one time or another, passed through their hands. They know the history behind every object, and will be more than happy to share this with you.
___________________________________________________________________________________________________________
Contact lies@vonyellow.be for more information, visual materials and/or an interview with Graanmarkt 13 founders Tim & Ilse.