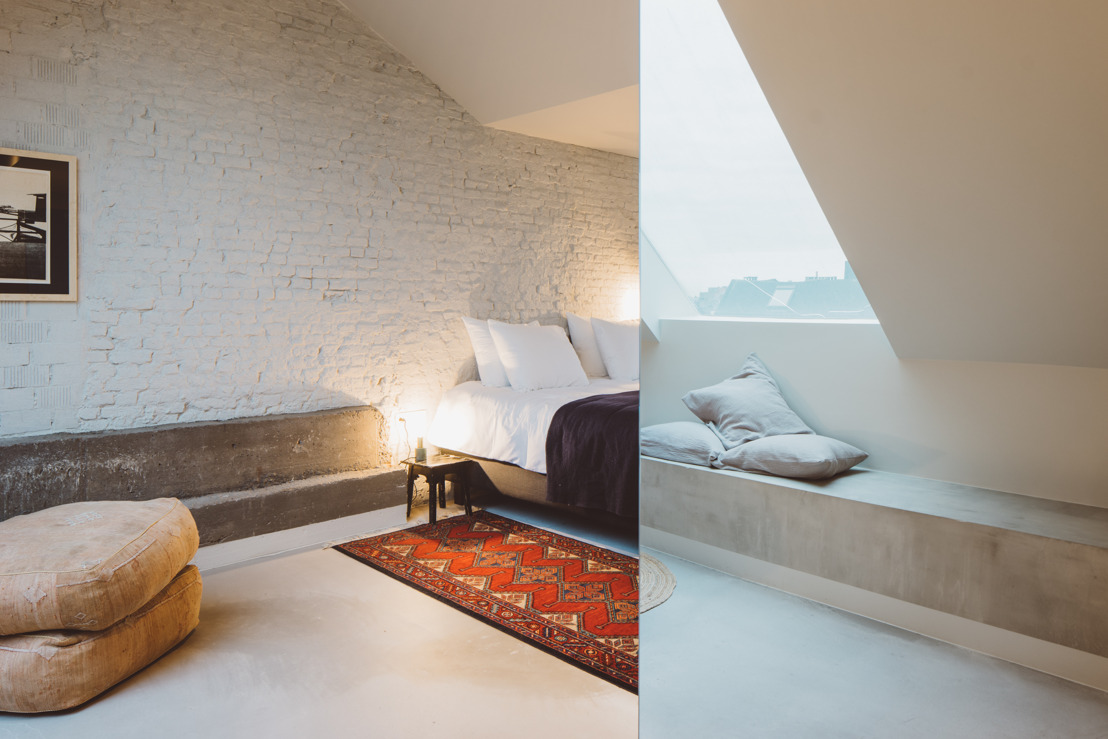 Hotel Pilar: an eclectic home away from home
Hotel, foodbar and shop in Antwerp's Het Zuid quarter
Monday, November 13, 2017 — The sunniest corner of Antwerp's Het Zuid quarter recently saw the opening of Hotel Pilar, an eclectic spot designed for exciting encounters. Pilar is a home away from home for international travellers and local residents alike. This architectural, white building houses a colourful 17-room hotel, a lobby-cum-foodbar, and a shop showcasing both unusual finds and in-house creations. Pilar positively palpitates with the personalities of its founders – Interior Architect Sam Peeters and Hotel Manager Christophe Ysewyn.
The vibrant urban life of Antwerp's arty Het Zuid quarter is reflected in Hotel Pilar's striking orange-pink terrace and lobby-cum-foodbar. Hotel Pilar is an eclectic spot with many different facets and influences. It is a place where you can sleep, work, meet, eat and relax. It's also a platform that will continuously evolve over the years to accommodate new opportunities and interests.
Hotel Pilar is a highly personal space in which a genuine passion for art shines through. Behind its bright white façade, Sam and Christophe invite their guests to relax and to draw inspiration from the many artworks and interior objects spread throughout the building. They want to bring their guests into contact with everything that they themselves love. Every room and every space houses a different selection of artworks, objects and designer furniture pieces, each of which has its own story to tell. This is the culmination of years of searching and is a testament to the creativity of the founders themselves.
Our starting point when breathing life into Hotel Pilar was often 'we-made-it-ourselves-because-we-couldn't-find-it'. This continues to be our guiding principle. We want to create a space that can evolve over the years, and naturally this means that we will carry on 'making'. - Sam Peeters
For example, the owners – sometimes in collaboration with their mothers – have created their own range of ceramic plates and bowls, colourful bedspreads and cushions, dusky pink round tabletops and more. You will find all these in the rooms, the foodbar with its striking terrace, and the Pilar shop.
The renovation of Hotel Pilar was planned and executed by Contekst Interior Architects, co-owner Sam Peeters' Antwerp-based bureau. Contekst brought light, colour, and above all, life into what had previously been a rather monochrome building.
Ps.: If you're wondering about the name Pilar? Besides being writer Ernest Hemingway's nickname for his beloved wife and ship, with which he explored many parts of the world, this beautiful girl name is number one on the owners' shortlist for a girl, if they ever have one...
HOTEL PILAR
This historical building houses 17 spacious, light-filled rooms, spread over three floors. Each room is individually decorated and features a bespoke selection of artworks and design objects. Many of these are for sale, which ensures a continuous evolution. Each of the high-ceilinged rooms has a different, spacious bathroom, with some featuring unusual bathtubs. For its toiletries, Hotel Pilar partners with the premium niche brand Le Labo, and is the only hotel in Antwerp to offer this label.
Interesting detail: the woollen bedspreads add a delightful splash of colour to each room. The colour of the bedspread reveals which type of room you have chosen.
Thanks to Hotel Pilar's location on the sunniest corner of the famous Leopold De Waelplaats, and its big windows, every room has a beautiful, undisrupted view of the stunning Royal Museum of Fine Arts, which is due to reopen in 2018 following lengthy renovation works.
PILAR FOODBAR
Generous in what we do and what we serve...
The foodbar is in the expert hands of hotel manager and food lover Christophe Ysewyn. Hotel guests, Antwerp residents and people from far beyond the city's boundaries can come here at any time of day to assuage their hunger. From a varied breakfast to a healthy lunch; or a guilty pleasure in the afternoon to a convivial evening dinner. The menu features a selection of Christophe's favourite dishes, with influences from around the globe. There is space for true classics such as French creuse oysters, gravadlax (marinated in beetroot) and croque monsieur à la Parisienne; but also for surprising dishes such as a miso hummus and a ceviche of sea bass. All are made with love using seasonal products from local suppliers. On the drinks menu, there is everything from good coffee (in partnership with the Antwerp-based coffee roasting house Caffenation), homemade lemonade and a range of delicious cocktails, to a particularly fine selection of wines.
The Pilar menu will change regularly, in line with the seasons or simply with Christophe's latest passions.
PILAR SHOP
The Pilar Shop is the place to be for a beautifully curated selection of products and objects, every single one of which has a story behind it. It offers a mixture of interior objects and beauty products featured in the rooms, and items by local designers. There are also in-house creations such as earthenware bowls, ceramic tiles, minimalistic candleholders, and even a set of furniture by Contekst Interior Architects (by co-owner Sam Peeters), comprising a wall-mounted desk and wall rack in black steel. Another standout feature of the shop is the art wall, where Sam and Christophe showcase new finds at very reasonable prices.
The Pilar shop is open from 7 am until closing time. Perfect for early birds or for late-night shopping.
PILAR ROOM
A cosy, multipurpose space for meetings, private dinners or other small events.
________________________________________________________________________________________________________
Get in touch with lies@vonyellow.be for more information, images or an interview.
________________________________________________________________________________________________________
HOTEL PILAR
Leopold de Waelplaats 34
2000 Antwerp
+32 3 292 65 10
KITCHEN OPENING TIMES
closed on Monday and Tuesday
Wednesday to Friday: open as from 7 AM for breakfast, lunch and dinner
Saturday: open as from 9 AM for breakfast, lunch and dinner
Sunday: open as from 9 AM for breakfast and brunch