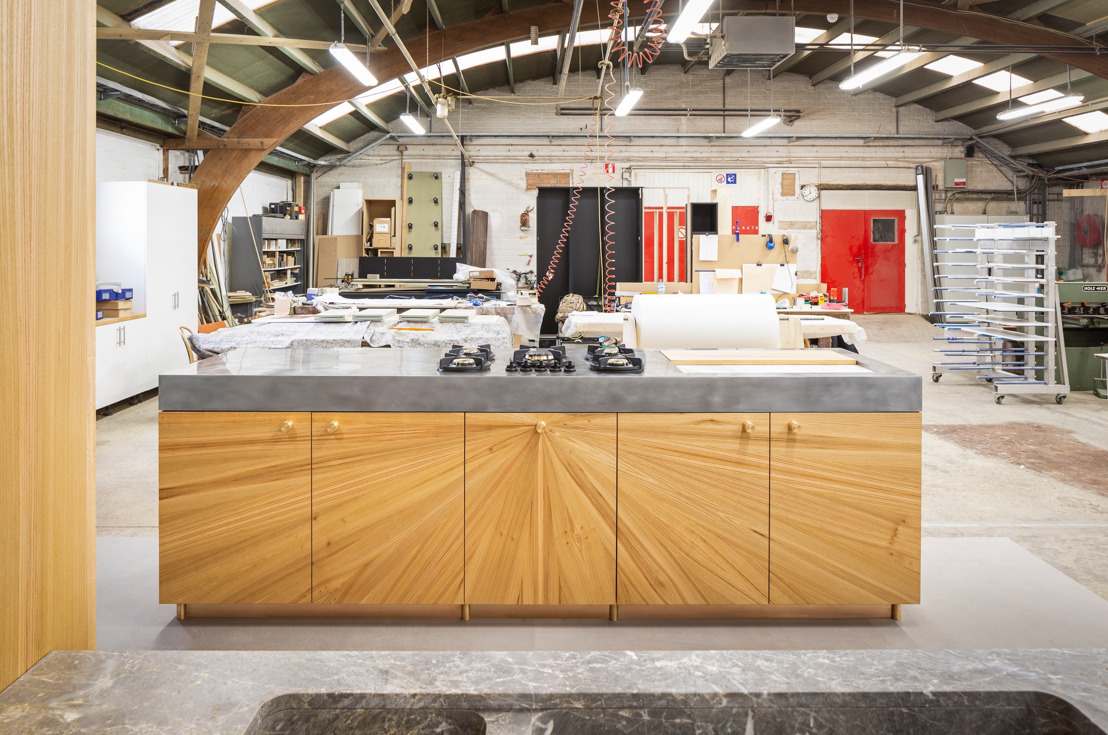 Michaël Verheyden, Koen Roux and Bart America design utilitarian luxury kitchen
Thursday, October 18, 2018 — Besides a number of key interior design values and standards designer Michaël Verheyden, interior builder Koen Roux and architect Bart America Belgium also share a similar kind of aesthetics. The result of their first collaboration is a utilitarian luxury kitchen made from locally sourced materials, which derives its inspiration from the ancient castle kitchen of Ludwig II's famous Neuschwanstein Castle in Bavaria, Germany.
The new kitchen presented by the three men from Limburg - Michaël Verheyden, Bart America and Koen Roux - at Interieur Kortrijk may be a luxury kitchen, but it is entirely bereft of superfluous gadgets. Its luxury is in the materials and the finish. The concept for the kitchen sprang from a desire to derive an aesthetic from the utilitarian, instead of allowing the aesthetics to determine how the kitchen is to be used. The result is anything but a 'showroom kitchen' and entirely in accordance with the philosophy and aesthetics shared by Michaël, Bart and Koen: a kitchen that is genuinely intended for cooking, back to the roots and perhaps even a bit 'Flemish', despite being inspired by a world-famous castle in Bavaria: Neuschwanstein.
Neuschwanstein
Neuschwanstein Castle (1886) is Bavaria's most popular tourist attraction and served as the source of inspiration for Disney's fairy-tale castle. The fairy-tale exterior and the ornately decorated interior were built for the megalomaniac King Ludwig II as a tribute to his favourite composer, Richard Wagner. The rather simplistic, highly functional kitchen – which was, of course, not intended to be used by the king himself – stands in shrill contrast to the opulence of the rest of the castle.
However these rooms are still suited to our modern requirements, thanks to the far-reaching functionality of the castle kitchens, for which high-quality regional materials were used to withstand intensive use.
Aesthetic functionality
Verheyden, America and Roux's kitchen focuses on the elementary actions that are inherent to all kitchens: storing, cooking, washing up. They looked to functionality, convenience, logic and tradition … for their aesthetic. A kitchen without instructions for use, in which the beauty of the material is once again the most important aspect.
'The evolution of the "kitchen" as a concept, from a service area to a room in which you spend time and receive visitors, and inspiration from the past have made me believe that "aesthetic functionality" could pave the way for a new approach to designing kitchens. That convenience and logic can also be beautiful. That proven methods do not always need to be reinterpreted and that patina and quality can go hand-in-hand perfectly.' – Bart America
The aesthetics of this kitchen are based on the materials that were primarily selected to facilitate use. Gris d'Ardennes, a hard, local natural stone, for the washing-up section; a hygienic cooking section executed in stainless steel; locally sourced elm wood (selected for its ecological-friendly properties with regard to transport and sustainability). All incorporated into the kitchen in their natural appearance and with traditional craftsmanship.
About Michael Verheyden, Koen Roux and Bart America
'In the past few years, my partner Saartje Vereecke and I worked very hard on a comprehensive collection of objects, furniture and lighting. This would not have been possible without a network of professionals. These partnerships are often highly personal and rely on a true sharing of ideas.' - Michaël Verheyden
In addition to their Limburg roots, Verheyden, Roux and America also share a particular sense of aesthetics and often ran into each other professionally. Interior designer and furniture maker Koen Roux and his team had been making sophisticated wooden furniture and objects for Michaël Verheyden for several years. Roux is a family-owned company, where traditional craftsmanship and expertise have been handed down for four generations. Roux practices cabinetmaking in the broadest sense of the word and excels particularly in veneering.
'Thanks to Michaël I gradually began to see that it was time to show the world (or part of it) what we are capable of. In the meantime, I also had an order for Bart in my portfolio, and his ideas dovetailed perfectly with our vision. The result is on display at Interieur.' - Koen Roux
As an architect, Bart America created the interiors of Michaël and Saartje's favourite restaurants in Hasselt, namely Ogst and what was formerly 12-20. After a traineeship at Bart Lens, America established a group practice in Brussels. After 10 years he recently returned to Limburg, where he focuses primarily on residential projects, which he approaches as personally as possible.
The kitchen is on display at the Roux Meubel stand (Hall 1, Stand 133) at Interieur Kortrijk from 18 to 22 October.