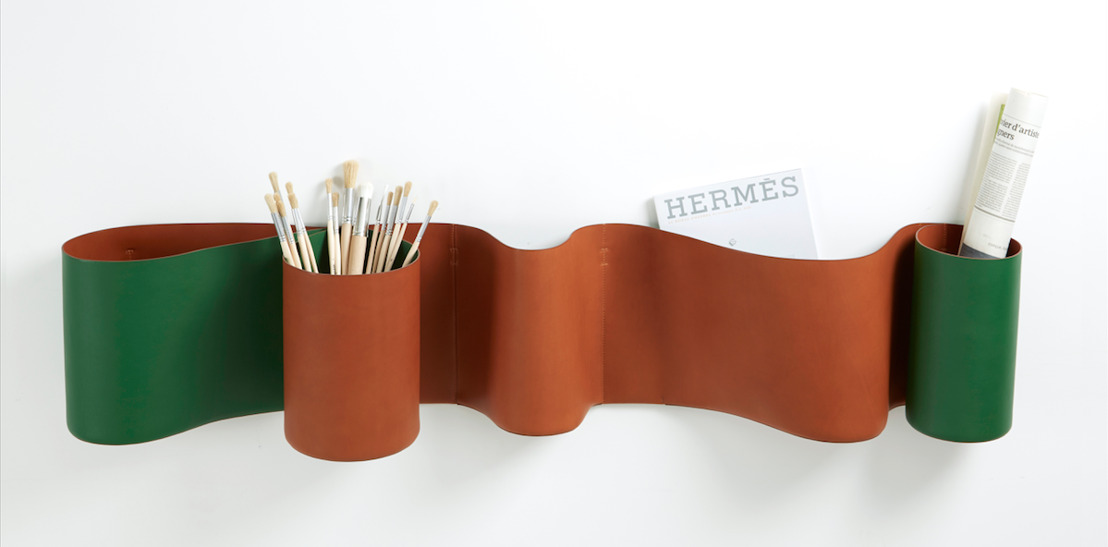 Muller Van Severen for Petit h, Hermès
Friday, May 20, 2016 — Giving a second life to unused Hermès materials by transforming them into something completely new, that forms the basis of the project of the french Hermès brand named Petit h. At the invitation of the brand, we have created "Waves of leather", a collection of shelves. The supple leather is worked like a sheet of paper, creating a series of undulations. These architectural, colourful, and poetic pieces lend themselves to multiple uses, firing the imagination. For Muller Van Severen it was a true pleasure working on this project together with Petit h creative director Pascale Mussard.
Waves of leather by Muller Van Severen for Petit h, Hermès will be launched during D'Days Paris,
31 May until 20 June at the Hermès store in Paris.
'Waves of leather'
31 May - 20 June 2016
Hermès, 17 rue de Sèvres, Paris
Tuesday - Saturday from 10.30 am - 7 pm
ABOUT Muller Van Severen
Since 2011, artists Fien Muller and Hannes Van Severen have designed a complete furniture family: chairs, tables, office furniture, lighting, armchairs and objects for interior and exterior use. Their creations are globally identified in both private homes and public spaces.
At this moment, Muller Van Severen are working on a new building for the public broadcasting company VRT, in collaboration with architects Robbrecht and Daem. They have shows at prestigious galleries (Kreo Paris) and they present a series of new objects at Petit h, Paris.
With both Fien and Hannes being artists, it's natural that the collection sits somewhere between design and art - it's obviously 'furniture' but the emphasis is not completely concentrated on function and suggests different ways of living and use of space... an uncanny twist on universal forms.