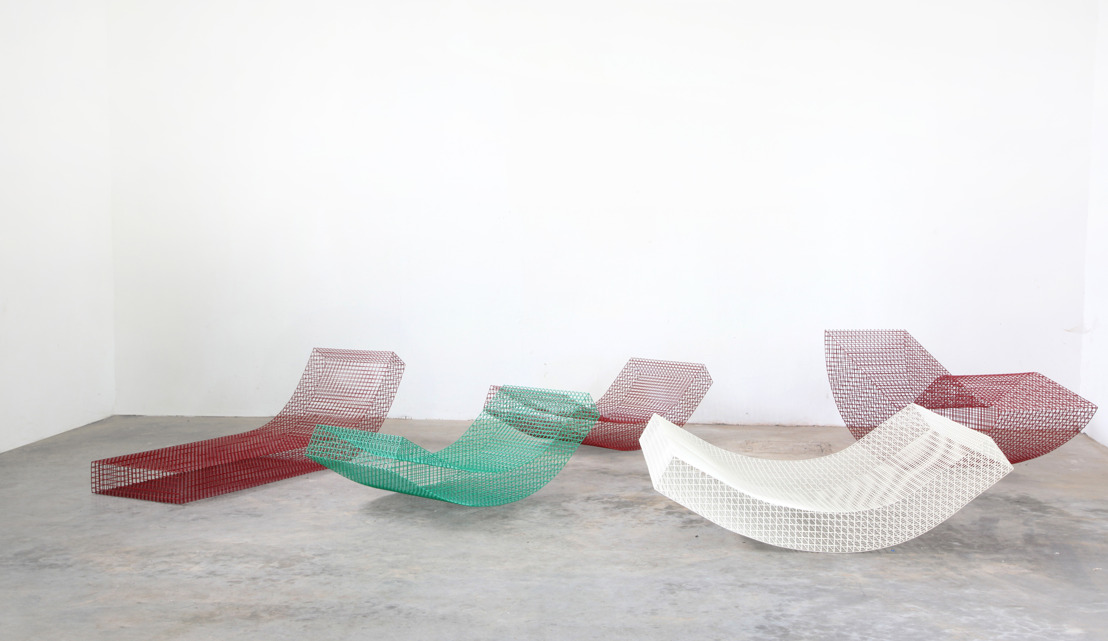 MULLER VAN SEVEREN I wire s # collection
Friday, October 28, 2016 — Design duo Muller Van Severen were invited to create furniture for one of the Solo Houses, an exceptional hospitality project of architectural masterpieces by the world's most talented architects. The Solo House by OFFICE Kersten Geers David Van Severen inspired them to conceive a series of sculptures and installations that will be presented at the Solo Galerie in Paris in December, and at the OFFICE Solo House upon completion of the house in the Spring of 2017. The wire s# designs are made out of stainless steel netting and are suitable for both indoor and outdoor use.
Studies for the OFFICE Solo House
Following an uncompromised curatorial line, SOLO HOUSES offers a dozen houses built by the world's most talented architects of this generation. The collection of unique homes is being built on an exceptional 100 hectares site two hours south of Barcelona, in the Mattaranya region.
The first structure, by Chilean architect firm Pezo von Ellrichshausen, was completed in 2013. Last summer, the project's owner hosted Fien Muller and Hannes Van Severen. He commissioned the duo to design furniture for the house built by OFFICE Kersten Geers David Van Severen at the same estate. The building by OFFICE will be ready in the Spring of 2016.
"It's an incredible place entirely surrounded by nature," say Hannes Van Severen and Fien Muller. "There's a courtyard and a swimming pond we designed a couple of lying objects for. They look like a curled up mattress or a sheet of paper, waiting for someone to lie down. We wanted to accentuate the openness of the place. The rocking daybed isn't manufactured in heavy materials like concrete or wood, but in metal netting. You can see through the object, but still grasp the architecture. Transparency makes the objects present and absent at the same time. They don't impose themselves on you, while they continue to be sculptural. At Valerie Traan's Antwerp expo, we're presenting our quest for furniture and sculptures with similar materiality. It's interesting to show this research phase in all its nakedness and fragility."
"The discovery of the new material (netting with 2x2 cm squares) inspired us to establish a novel world of landscapes and sculptures that also holds a place for color. We love the idea that the user can dress up our furniture with plaids, blankets or a sheepskin…"
Solo OFFICE House
Renowned Belgian architectural firm OFFICE Kersten Geers and David Van Severen designed the second Spanish house. Their self-sustaining home integrates the living spaces in a wide circle. There's a swimming pond in the circular courtyard. The house is constructed as a circular gallery with succeeding living areas.
"Our villa is, just like Fien and Hannes' furniture, highly transparent. It allows for an immediate contact with the surrounding nature."
Muller Van Severen
It was in early Spring of 2011 that Muller van Severen was born, a creative collaboration that gave rise to a furniture collection by the Belgian duo that is Fien Muller and Hannes van Severen. Since then Fien and Hannes, both artists, have designed a complete furniture family. Their creations are globally identified in both private homes and public spaces.
At this moment, Muller Van Severen are working on a new building for the public broadcasting company VRT in collaboration with architects Robbrecht and Daem. They are partnering up with prestigious galleries (Kreo Paris, Matter New York, The Apartment Copenhagen, Andreas Murkudis Berlin) and they have collaborated on a series of objects with Petit h, Hermès.
Please send an email to lies@vonyellow.be if you wish to receive more high resolution imagery.