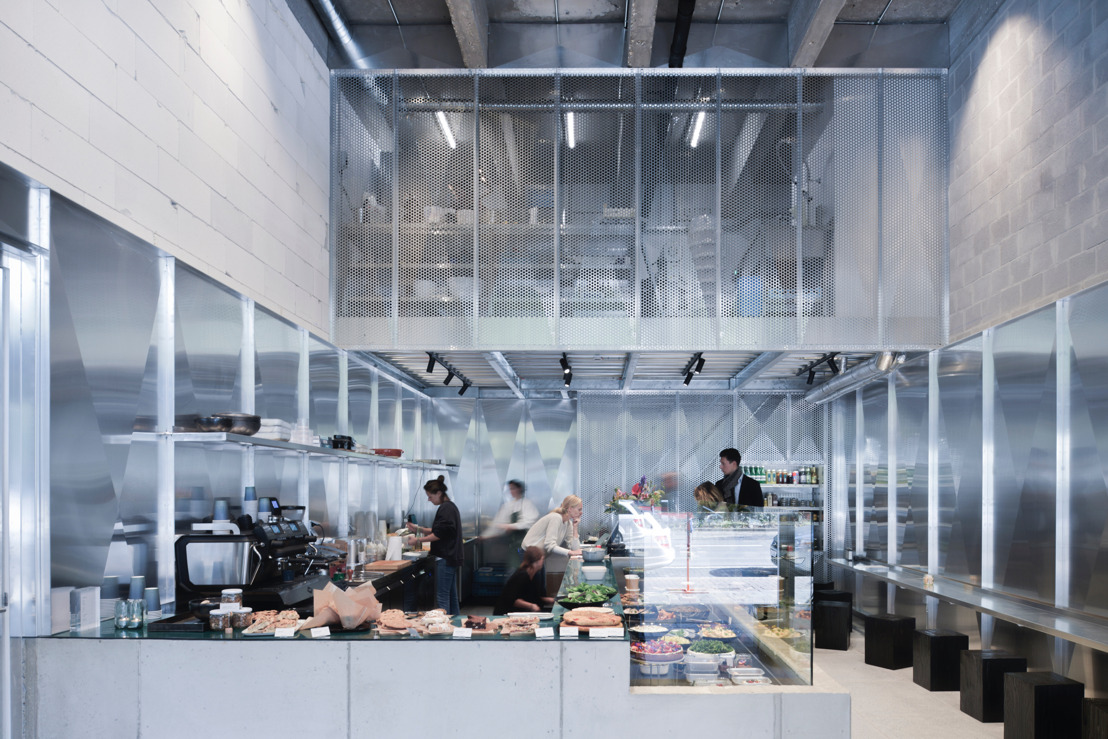 New style deli 'Midori' offers quality food for work / life in Antwerp
Right at the entrance of your office
Friday, October 5, 2018 — The next generation office meets the next generation deli in the WATT tower in Antwerp. Right at the entrance of the renovated tower, housing a.o. the renowned office and co-working space Fosbury & Sons, Midori welcomes hungry passers-by to take away quality food both in flavour and nutrition.The new style deli offers food for work and life balance, right at the entrance of your office to grab-and-go. Midori aims to fit pure food and convenience right into your daily work-life schedule to make sure you keep going. Midori opened its doors at the end of September 2018.
The office market is rapidly moving towards smarter and more stylish office solutions. But in addition to being super stylish, the office 2.0 is all about the convenience of its people with e.g. great transport options, state of the art gyms and great food options. In Antwerp, the people behind catering company/coffee and lunch spot Coffeelabs - who are in charge of nourishing hungry Fosbury & Sons members - want to fill in the need of working people to fuel themselves with balanced and savoury food throughout their entire day. Their new concept Midori takes up residence right at the entrance of the office building. First base: WATT tower Antwerp.
From 8 AM to 8 PM
Midori - the Japanese word for 'green' - is a powerfood stop at the entrance of the office building. It takes you from breakfast to dinner, following your daily flow. Filling, delicious and nutritiously balanced meals are prepared in-house, with a strong focus on peek seasonal vegetables. Hungry workers or passers-by can hop in before, during or after work to grab-and-go, or eat in at the shared countertop table. Hop in on your way to work for a quick coffee, juice or a breakfast bowl and take a 10 AM snack with you, come back for a balanced lunch and take away a satisfying evening meal on the way out. Are you not amongst the lucky ones to work in a building housing a Midori? Have your meal delivered to your office/doorstep.
The Midori menu goes from rustic and utterly delicious salads, toasts, vegetable and grain dishes, pastas, fish and meat mains, and desserts. Midori offers daily menu's essential options and seasonal specials. Vegetarian and vegan options are an important part of the menu.
the menu
Take out your breakfast on your way to work. Midori offers delicious treats like overnight oats with vanilla & matcha (vegan), a chia pot with almond and coconut, toast with fresh ricotta and honey, a fully loaded breakfast baguette with omelette, avocado and herbs, or tasty bakery items like cinnamon rolls (vegan), energy bars and salted caramel macadamia chocolate chip cookies - prepared in the in-house bakery on the first floor of Midori.
For lunch Midori focuses on healthy options such as soup of the day or a power bowl. Compose your own power bowl, consisting of 1 'meat' or 'veg' of the day, such as chicken kefta, herbed goat cheese balls, zucchini fritters or spinach, quinoa and feta burgers, accompanied by 3 side dishes of your choice such as sweet potato with greek yoghurt, sesame soba noodles, super green wok, roasted eggplant with tahini, or a beetroot carpaccio with orange and pistachio, all finished with a homemade seasonal dressing.There is also a choice of different types of 'sandwiches', such as mediterranean naan with hummus, eggplant and sweet potato, or with pulled pork, herbed cream cheese and pickled veggies and a focaccia with fresh ricotta, zucchini and basil.
Take out your dinner on the way home choosing between two soups of the day, such as carrot, turmeric & ginger soup, zucchini basil soup, and kohlrabi curry soup. Other dishes to enjoy in the evening include a vegetable curry or daily varying pasta dishes such as cannelloni with spinach and ricotta, fagotini with pesto and bacon and ravioli with artichoke. Fish and meat lovers can choose one main, such as herb crusted salmon with avocado & broccoli, the marinated beef tataki, or a lemon & rosemary roasted chicken, and combine at will with various side dishes from the counter.
Desserts are prepared in the in-house bakery, and include some satisfying options such as the signature cheesecake, triple chocolate brownie, 70% chocolate mousse with red fruits, vanilla panna cotta with blueberry and peanut crunch, salted caramel macadamia chocolate chip cookies and raw bliss balls (raw, vegan).
Thirst can be quenched with the cold-pressed juices by jusjus, water by Marie-Stella-Maris, Fountain of Youth coconut water, Ferm kombucha and Kerel beer. Midori is also the place to be for homemade iced tea, natural wines and sake.
Your day in food
8 am : coffee / juice / morning toast / breakfast bowl
10 am : cappuccino / snack time
12 am : finally lunch time / daily power bowl
4 pm : afternoon cravings
8 pm : take your dinner home
Interior
Antwerp design agency Going East, founded by interior architects Anaïs Torfs and Michiel Mertens, has provided the new style deli with an international looking, clean interior. By working with raw materials like concrete, steel and green enamel, the delicious meals get all the attention. The elevated kitchen brings a nice bustle to the small space, in which casual seating is provided for 16 eaters. Other Going East projects are the famous Fosbury & Sons office spaces, the gastronomic restaurant Veranda, the craft bakery Konditori, and the Japanese-inspired hairdresser ISU.
Opening hours & Address
Monday - Friday : 8 am to 8 pm
Mechelsesteenweg 271 - 2018 Antwerpen